Proper use of archival material isn't just a matter of downloading, or even paying for it. It's also important to understand the context of a photo or film. That may mean getting in touch with an archival association dealing with that subject. Or learning the guidelines for analyzing third-party documents. Or making sure something's authentic.
Fortunately, there are ample resources only a few cyber-clicks away, including the following: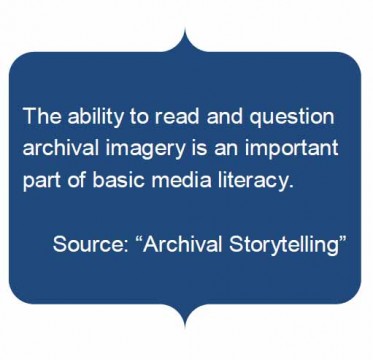 The Moving Image Source focuses on the history of film, television, and digital media, featuring "original articles by leading critics, authors, and scholars; a calendar that highlights major retrospectives, festivals, and gallery exhibitions at venues around the world; and a regularly updated guide to online research resources."
The entire website, a publication of the highly regarded Museum of the Moving Image, is a treat for any film lover. But for the researcher, the Research Guide is the most valuable area, with a database of more than 400 tightly annotated items range from scholarly archives and corporate collections to the personal journals and filmographies of aficionados around the world.
One such item, the museum's Collection Catalog, is a case in point, housing artifacts "from every stage of producing, promoting, and exhibiting motion pictures, television, and digital media—more than 130,000 objects in all." You'll find everything from photographs and costumes to publicity materials and video. Another example: Links to 52 international databases ranging from one with classic print ads to another on Warcraft movies.

Center for History and New Media: A George Mason University service that aims to use "digital media and technology to preserve and present history online, transform scholarship across the humanities, and advance historical education and understanding." Don't miss the "Research + Tools" section, a collection of informative publications and helpful applications for scholars and researchers.
Want to become a skilled archive detective? Spend some time at Making Sense of Evidence. The website provides "strategies for analyzing online primary materials, with interactive exercises and a guide to traditional and online sources." In addition to written guides, a variety of scholars tell you in their own words how to analyze material. Two items should be of particular interest to archival researchers: Making Sense of Films and Making Sense of Documentary Photography. While you're at it, drop by Fairleigh Dickinson University's quick-and-easy guide on: How to Conduct Reliable Web Research.
Keep in touch with the latest stock and archival footage industry news at FootageInfo.com. As an added bonus, you find what is arguably the most complete list footage sources on the Web—240 services in all, and each of them hyperlinked.