Archives can be found just about anywhere. Somebody's family video stuck in the attic. Photos of a trade group's monthly meetings. Clips of a community organization's annual parade. A local historical society's records stuffed in some file cabinet. Or the slick database of a commercial archive. The only boundary is your imagination. Other sources of third-party material inhabit more well-beaten paths: The following are among the most popular, robust or time-honored.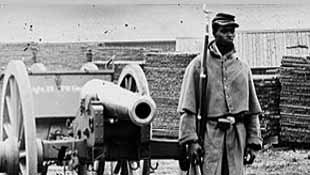 First and foremost is the storied Library of Congress. (You can watch a multimedia presentation to get acquainted.) The library's collections range from the works of Ansel Adams to the Wright Brothers—from maps and photogravures to historical documents and film. Collections come with backgrounders, copyright info and directions on how to obtain reproductions. Among the more notable areas to explore:
The C-SPAN Video Library is one of the great hidden jewels for archival footage. It "records, indexes, and archives all C-SPAN programming for historical, educational, research, and archival uses.
"Every C-SPAN program aired since 1987, now totaling over 160,000 hours, is contained in the C-SPAN Archives and immediately accessible through the database and electronic archival systems developed and maintained by the C-SPAN Archives."
The search interface is drop-dead easy, and I used it extensively for my documentary probing government propaganda. Before using the footage, which can be viewed online or ordered on a DVD, check out the Rights & Permissions section. It tells you under what circumstances you can use the footage in your production.
A simple e-mail message by me explaining that my film was non-commercial and part of a school project resulted in a quick response by C-SPAN approving my use of their clips. My film would have been impossible without it, unless I wanted to (and could afford—not!) pay large licensing fees to the commercial networks.
Programming on all three C-SPAN networks—seven days a week, twenty-four hours a day—is archived and thoroughly indexed by subject, speaker names, titles, affiliations, sponsors, committees, categories, formats, policy groups, keywords, and location. Not only that, congressional sessions and committee hearings are indexed by person with full-text.
Moving Image Collections (MIC) "lets you discover, locate, and even (in some cases) view moving images from around the world." Sponsored by the Library of Congress and the Association of Moving Image Archivists, the site has two main databases:

The Catalog "brings together in one place catalog records for individual moving images collected and managed by a number of organizations, enabling users to search for moving images across multiple collection." The organizations range from the Smithsonian Institution to the Academic Film Archive of North America.
The Directory "lists organizations and individuals that collect moving images, including archives, libraries, museums, historical societies, film studios, broadcasting companies, etc."
The National Information Center for Educational Media boasts that it is the "world's most comprehensive audiovisual database since 1963." It includes bibliographic information for over 675,000 items—from the early 20th Century "to this month's releases"—and covers everything from documentary and instructional materials to recreational programming and avant-garde productions. It's worth a visit if only for its Resource Links section, which provides a long list of hyperlinks to the websites of leading film, media and professional organizations.
Smithsonian Folkways Recordings is dedicated to the "documentation, preservation, and dissemination of sound." Recordings range from "traditional, ethnic, and contemporary music from around the world; poetry, spoken word, and instructional recordings in numerous languages; and documentary recordings of individuals, communities, current events, and natural sounds." Drop by just to listen, even if you're not doing research.
The Internet Archive has a lofty goal: "to prevent the Internet – a new medium with major historical significance – and other 'born-digital' materials from disappearing into the past. Collaborating with institutions including the Library of Congress and the Smithsonian, we are working to preserve a record for generations to come." One of the most eclectic collections you'll likely to come across, You'll find archived here everything from early websites stored on the "Wayback Machine" and Grateful Dead audio shows to open-source books and, of course, moving images, including the famous Prelinger Archives (with more than 2,000 titles).
Flickr is a dream come true for third-party photos, particularly because many participants upload their images under Creative Commons license, meaning that others can use their works under certain restrictions.
In some cases, you only need to attribute the work. In other cases, you can't use it commercially. The last time I checked, there were more than 19 million photos with the least restrictive license, and more than 122 million under other forms of Creative Commons licenses. The Creative Commons photos are not easy to find from the Flickr homepage. Here's a quick link to them.
The types of permitted uses are clearly labeled on the image's home page, on the bottom of the right-hand column under the "Additional Information" label.
I always do two things when I intend to use a photo, even if it's labeled for Creative Commons use:
1. First I do a screen grab of the entire page, to clearly show what the license said at the time that I downloaded the photo, so there's no misunderstanding later.
2. Then I e-mail the photographer to let them know how pleased I am to be able to use their work—and to thank them profusely.
I invariably get warm responses. In one case, a photographer was so delighted to have his image used with attribution that he offered to take specific shots for me if I ever needed them—in Spain!—for free!
Speaking of Creative Commons, there's a media-related version of Wikipedia: It's called Wikimedia Commons, "a media file repository making available public domain and freely-licensed educational media content (images, sound and video clips) to everyone." It boasts more than 6.5 million media files. The nice thing about Wikimedia is its user-friendliness, at least for anyone familiar with Wikipedia. Getting exasperated looking for that public domain Abu Ghraib torture image (as I was while doing research on the Iraq war)? Yep, Wikimedia has it!
Another great Creative Commons source: the Sandbox at WGBH Lab, a "way of sharing high-quality video clips with you – for free. Use our clips to make a mash-up, documentary, music video, or whatever!" The categories range from culture and science to history and nature.
There are also a large number of highly regarded commercial sources—websites that are fun to browse even if you have no intention of paying out good money for what you might be able to get for free with some digging. Some of the most popular include: