The front page of the U.S. National Archives and Records Administration (NARA) website unequivocally states: "Democracy Starts Here."
That may be true enough. But not quite—at least, when it comes to searching for film archives. To do that, you have to drill a little deeper down into the website. If this is your first time doing film research and don't want to take a leisurely online stroll—through some amazingly rich areas, but ones that have little to do with motion pictures—my advice is to click on the no-brainer-named "Start Your Research" link in the left-hand navigation column.

That will take you to a page describing NARA's holdings, which we're told "would circle the Earth over 57 times!" Again, unless you're in the mood to circumnavigate the globe a few times, go to the left-hand navigation column (which now has a whole new set of items) and click on the "Motion Pictures and Sound" link. The page you're now on, entitled "Motion Picture Films and Sound and Video Recordings," is definitely worth browsing through, to get acquainted with the nature of the holdings (a whopping 300,000 reels of motion picture film and more than 200,000 sound and video recordings) and locations (including Presidential Libraries and the Video Research Room in College Park, MD).
Once you've familiarized yourself with the resources on that page, it's time to give the Archival Research Catalog (ARC) a try. At the bottom of the page, you'll see several search hints, including NARA's advice to go to the ARC basic search screen. My experience has been that you're better off going to the advanced search screen instead. To do that, simply click on the "Search Options" link.

That will take you to the "Archival Descriptions Search" page. You'll have to click one more time—this time onto the "Advanced Search" link—to get to the advanced-search form.
The beauty of this user-friendly form is that it allows you to frame your search without worrying about using the correct Boolean terminology—you simply enter your terms in the appropriate boxes. Another advantage is that you can specify, with checkboxes, what types of materials you want to include in the search. NARA provides several help sheets and reference guides on how to search its database.
The first thing you'll likely experience after hitting the search button is amazement at the sheer number of results. The second thing may be the feeling of being overwhelmed—not only by the long list of citations but also by the umpteen tabs, fields and functions on the Descriptions page. Never fear, they will all make perfect sense once you try them.
Be aware that it takes a certain investment of time and effort to get savvy about searching through this massive database. But the payback, in terms of satisfaction and visual reward, is huge: You are, in effect, reaching back through time and capturing national treasures.
For the intrepid, there's help literally at every turn. For guidance on going beyond the basics in digging through NARA, check out this set of tutorials. There's also an extensive manual.
Tip: When you click on a highlighted title to get item details, you'll notice a highly helpful contact e-mail address of the item's custodian in case you have additional questions: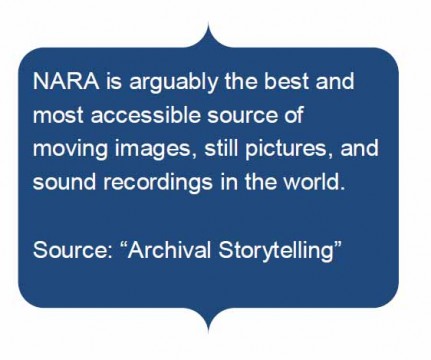 Once you've found what you were looking for, head over to the appropriate help pages for information on how to acquire it.
If it's a motion picture, sound or video recording, chances are that it's available through NARA's research room in College Park, MD. Read all about it here.
Unless you want to make your own copies or need to preview reels to make sure they fit your needs (see this explainer for the equipment you'll need), it's not necessary to visit the research room. This page unravels the process for ordering broadcast-quality copies remotely.
In short, it entails filling out a form, faxing it back to and getting NARA's OK, and then contacting a NARA-approved vendor to copy the footage for you for a relatively modest fee. For example, you can get a couple reels of broadcast-quality film processed for a few hundred dollars. There's a big list of vendors to choose from. (I found the folks at Colorlab to be very helpful.)
A couple things to remember: Make sure you request the correct aspect ratio: 4 X 3 for standard definition and 16 X 9 for HD widescreen. If you're unsure, ask.
There's a similar process if the material you want is a photo or graphic. The Still Picture unit at College Park holds digitized versions of more than 40,000 selected photographs and posters. The steps to obtain them are outlined on this page.
In addition to the holdings at College Park, there are many Presidential Libraries offering extensive multimedia material. I can vouch for their usefulness with a personal experience.
Through an e-mail exchange and phone call with a curator of the Franklin D. Roosevelt Presidential Library and Museum, I obtained a film clip of Roosevelt's famous speech declaring that the nation had "nothing to fear but fear itself." I felt that clip would be the proper opener to my documentary about the lead-up to the Iraq War. And it only cost me $26 to get a DVD reproduction mailed to me.
For more extensive projects or when you're on a tight deadline, you can turn to a professional researcher. The NARA site offers a long list of for-hire film researchers, sorted by research topic specialty, media type specialty and region or facility location. Based on an informal survey I did, you can expect to pay about $300 per day for the service.
Another tactic—one that proved very helpful for me—is to find a film related to the subject you're working on and track down the researchers listed in the credits (via Google, of course). I had a delightful e-mail exchange and then telephone conversation with the researcher for a WGBH "American Experience" documentary film. Not only did she help show me the ropes for finding NARA clips, she even corrected the citation numbers for one of the reels I was looking for! Use Netflix and the Internet Movie Database to pinpoint relevant films.
Lesson: A good detective can't be shy.
Speaking of which, another important thing I learned in researching archives is to NOT be afraid to ask questions of the NARA staff. So, use the e-mail contact address that you find on records if you're unsure about your search results or need further guidance about how to obtain something. But be a little patient for a response. They get a lot of requests—and they're a tightly staffed government agency, not a deep-pocketed Hollywood studio.